Community Savings Credit Union wins Achievement in Marketing Excellence Award for direct marketing campaign of 2021
The 'Roll With Us' marketing campaign has been recognized nationally for its creative approach to support the cannabis community
Vancouver, BC (May 5, 2022) –(Vancouver/ Unceded Territories of the Musqueam, Squamish and Tsleil-Waututh Nations)
Community Savings Credit Union is pleased to have been honoured with an Achievement in Marketing Excellence (AIME) Award for their 'Roll With Us' direct marketing campaign. The Canadian Credit Union Association hosts the AIME awards to showcase the most effective and creative marketing and communications campaigns across Canada.
The direct mail campaign featuring Community Savings branded rolling papers was created to connect with 340 cannabis retailers across British Columbia and share Community Savings' accessible and competitive account for cannabis businesses.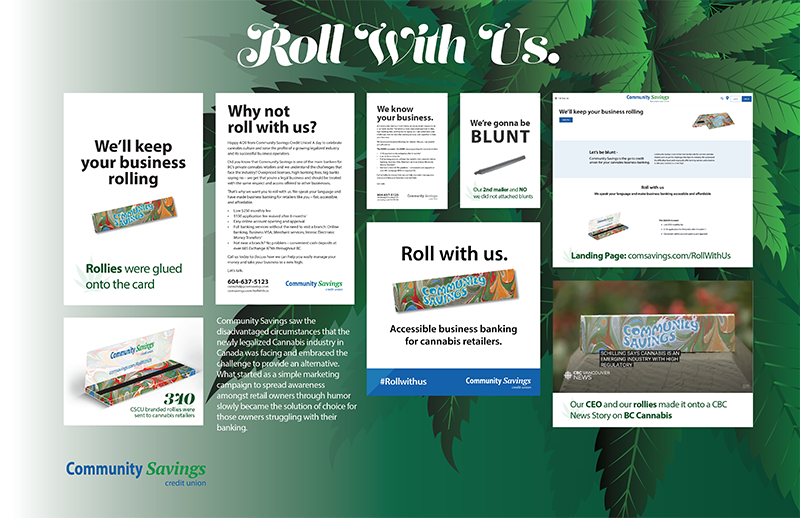 The barriers for cannabis businesses to open accounts with traditional banks are high, with costs reaching up to $7,500 for retailers to open a simple chequing account. This campaign wasn't only about the cannabis industry, it's an issue all credit unions care about - the right for people to have access to fair and affordable banking services. The Roll With Us campaign helped to highlight this offering.
"This fun and unique direct marketing campaign is one of the ways we demonstrate our uncompromising commitment and support of the cannabis industry in British Columbia," said Ed Sue, Marketing Manager of Community Savings.
"Winning this national award is a great achievement both for Community Savings and the cannabis retailers banking with us. We're proud to support this important industry, and to lower the inequitable barriers of entry for the industry to access banking," said Mike Schilling, CEO of Community Savings.
Special credit to The Idea Partner for their creative talents in helping to develop and produce this direct marketing campaign. The Idea Partner is a multidisciplinary Design Studio in Vancouver, BC, who have won several marketing awards with their client partners over the past 20 years.
To find out more about the 2022 Achievement in Marketing Excellence Award (AIME) visit here.
For further information please contact:
Yulu PR
cscu@yulupr.com
604.928.9419
About Community Savings
Community Savings Credit Union is BC's largest fully unionized credit union and is dedicated to being the credit union of choice within the working community. At Community Savings Credit Union, we are known for providing exceptional service to each member and our passion lies in empowering our members to achieve their financial goals. Being member owned and operated, Community Savings invests into our communities by supporting local charities and non-profit organizations to help create stronger and more vibrant communities. To learn more, visit comsavings.com